_

VISION

VISION

55 years have passed since its establishment, during which Nakano Quantity Surveyors Co., Ltd. has always vied to contribute to creating a rich environment through architecture calculation. I believe that we have acquired a combined wealth of data and know-how through our involvement in architectural structures which have included overseas 16,700 constructions and 38,800 towers.

However, although generally speaking the construction estimation has been limited to "the business of volume calculation", our company has swiftly dealt with the trend of diversification of "from design planning to management calculation" and started CP which deals with the demands the company from the society. Moreover, our company activities and aspirations are always in line with development of globalization.

Our company is working in earnest in such circumstances to hold up the following four policies.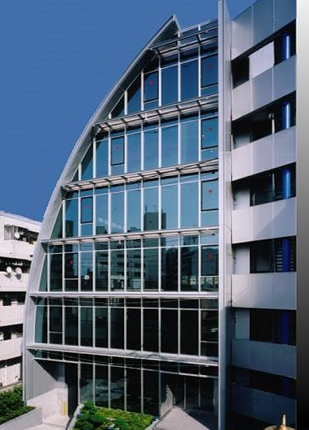 Improving techniques

Engaging in research and planning technological strength.

Technological development

Further developing computerization and technical skills and planning manufacturing.

Interacting with overseas techniques

Deepening contacts with businesses and with related association in each country which started in the west and being more active in the exchange of information and in exchanging techniques.

Widening the network

Aiming to positively contribute to the domestic construction industry nationwide by using our technology and at the same time, strengthening for the services for oversea developments.
_

WORKS

WORKS

Nakano Quantity Surveyor Co., Ltd. is a professional firm with extensive knowledge and experience concerning the financial issues of architecture and general construction.
To meet their clients' requirements, the company provides estimate of quantities and cost of labors and materials for the proposed projects, as well as building assessments and of related services such as research investigations and assessments.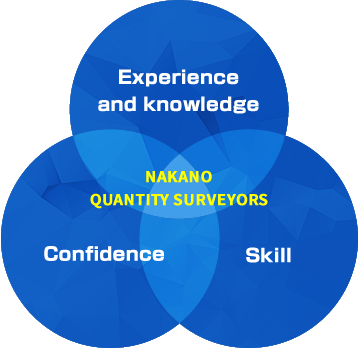 _

WORK FROW CHART

業務フローチャート
Pre-work
Quantity surveyor works

[Detailed Estimate/Rough Estimate] [New Construction/Renovation Construction]

Delivery / Construction
Pre-work
Planning

DesignArchitectural drawings and Structural drawings
Quantity surveyor works
Acceptance of plan

Drawing digitized

Preparation and Meeting

Quantity calculation (Pick-up)

Creation of bill of quantities

Check and modify

Creation of quote comparison table and costing

Submission
Delivery / Construction
Value engineering and check back response

Delivery

Construction

Completion


Calculation of construction quantity


Calculation of construction quantity established under public and private sector agreement
Calculate quantity from design books based on standards

Calculation of construction cost


To provide a cost for the calculated quantity

Approximate cost of construction work


Approximate amount calculated according to basic design drawing
●Role of approximate cost of construction work
1. Promoting an economic design for the final design.
2. Cost index comparison for final cost.
3. Determining the basis of the initial cost in the business plan.
_

MAIN WORK

MAIN WORK
1.QUANTITY SURVEYOR AND RELATED WORKS

A.Quantity Surveyor works for Constructions in general
B.Quantity Surveyor related works
1.Drawing summary of Design Development
1.Management calculation at time of planning
2.Cost planning during Design Development
2.Drawing construction specifications
3.Cost planning during Contract Documentation
3.Management of costs during construction
4.Recording number of frames and drawing construction budget at time of design development completion
4.Investigation and authentication of construction
5.Drawing construction estimations
6.Price negotiation at the contract
2.OTHER ABOVE RELATED WORKS
_

PROJECT

PROJECT

Public construction
The police overall government office building earthquake-resistant repair
Area public corporation block around JR Yokosuka station
Yokohama International Stadium
Chiba-ken government office building new annex
Tokyo Metropolitan Government Office Building
Tokyo National Museum Heisei house
Kyushu University of Occupational and Environmental Health
Sendai dome
Sapporo Dome
Nagoya dome
The Japanese Red Cross Society Headquarters
National rehabilitation center
National Kyoto hospital
Sendai municipal hospital
Sakai municipal hospital
Metropolitan Hiroo hospital
Chiba new Town
Yokohama-shi Kohoku-new-town
Tokyo circulation center
Metropolitan Suginami Incineration Plant
Kawasaki funeral
New western Japan center government office building
Tokyo Stock Exchange
Omiya-shi industrial lyceum
Nagano-ken cancer screening center
Tama-new-town
Central Congruence Government Office Building No. 6 Building
Tokyo-to art lyceum
Miyagi-ken government office building
Sendai City Museum
Izumity 21
Otaru post office government office building
Nagoya middle post office Government Buildings
NHK Nagoya Broadcasting Networks center
Miyagi-ken overall pool
Kansai International Airport passenger terminal building
Ibaraki-ken government office building
Construction University Administration Building, Welfare Building, Library Building
International industry-academia-government collaboration OSL
Okayama Switchyard Ruins-Park (Tentative name) Studium
Utsunomiya Central Post Office government office building
Seiseki Sakuragaoka Station south district first kind urban redevelopment project
University of Tokyo 2 Building renovation
The Ministry of Foreign Affairs diplomatic reference library repair
New Kawasaki (the Kashimada station east, area) urban housing
Tokyo International post office change
Central Congruence Government Office Building No. 1 Building interior renovation
Kamiikebukuro 1-chome residential building construction
Hachijojima weather station construction work
Nagasaki-ken new art museum building construction
Private construction
NTT DOCOMO Saitama building
Tokyo Gas Shinjuku skyscraper
Area redevelopment project in front of Tsukishima station
JR Central towers
Marunouchi building
Yokohama Port Said F-1 block first-class urban area redevelopment project
Osaki station east entrance redevelopment project
Tokyo mutual aid hospital
Roppongi 6-Chome re-development project B block
Sunshine city (including sunshine 60)
NTT DOCOMO Kawasaki building
Mitsubishi main building
Hakone kowakien redevelopment plan
Tokyo Kaikan new main building
Shizuoka-ken cancer center
Hibiya international building
Kogakuin University school establishment 115th anniversary commemoration gymnasium
Marubeni Osaka headquarters building
Narita red cross hospital
Nihon University hall
Higashi-gotanda 2-Chome 1st area first-class redevelopment project
Mitsubishi Bank main store
Fukui red cross hospital Main building
Yokohama MM tower
Shinagawa Prince Hotel two period construction
Mitsubishi Heavy Industries Yokohama shipyard
Kakyoin 1-chome second area first-class redevelopment project
Kirin beer Shiga factory
KKR Sapporo medical center
Ebisu garden place
Ferris University new library new literature department building construction
Sweden embassy
Yasuda Life Insurance Hiroshima building
International flower and green exhibition Mitsubishi future house
Kyoto second red cross hospital new ridge rebuilding construction
Japan Women's University human social sciences department schoolhouse
Diamond City Kirin Hiroshima shopping center new construction
Minatomirai 21 Land mark tower
Osaka World trade center
Asia Pacific Ocean trade center
Overseas construction
VIETNAM CHO-RAY HOSPITAL
SAUDI-ARABIA DESALINATION PLANT
SAUDI-ARABIA COMMON BUILDING
KINGDOM OF SAUDI-ARABIA
YANBU SAUDI-ARABIA
CENTRAL OPERATIONS OF SAUDI-ARABIA
INDONESIA CONSTRUCTION GUIDANCE SERVICE CENTER PROJECT
MALAYSIA COLD ROLLING MILL PLANT
P.M.Y BUILDING & SHELTER WORK
SIA SET ENGINE TEST CELL PROJECT